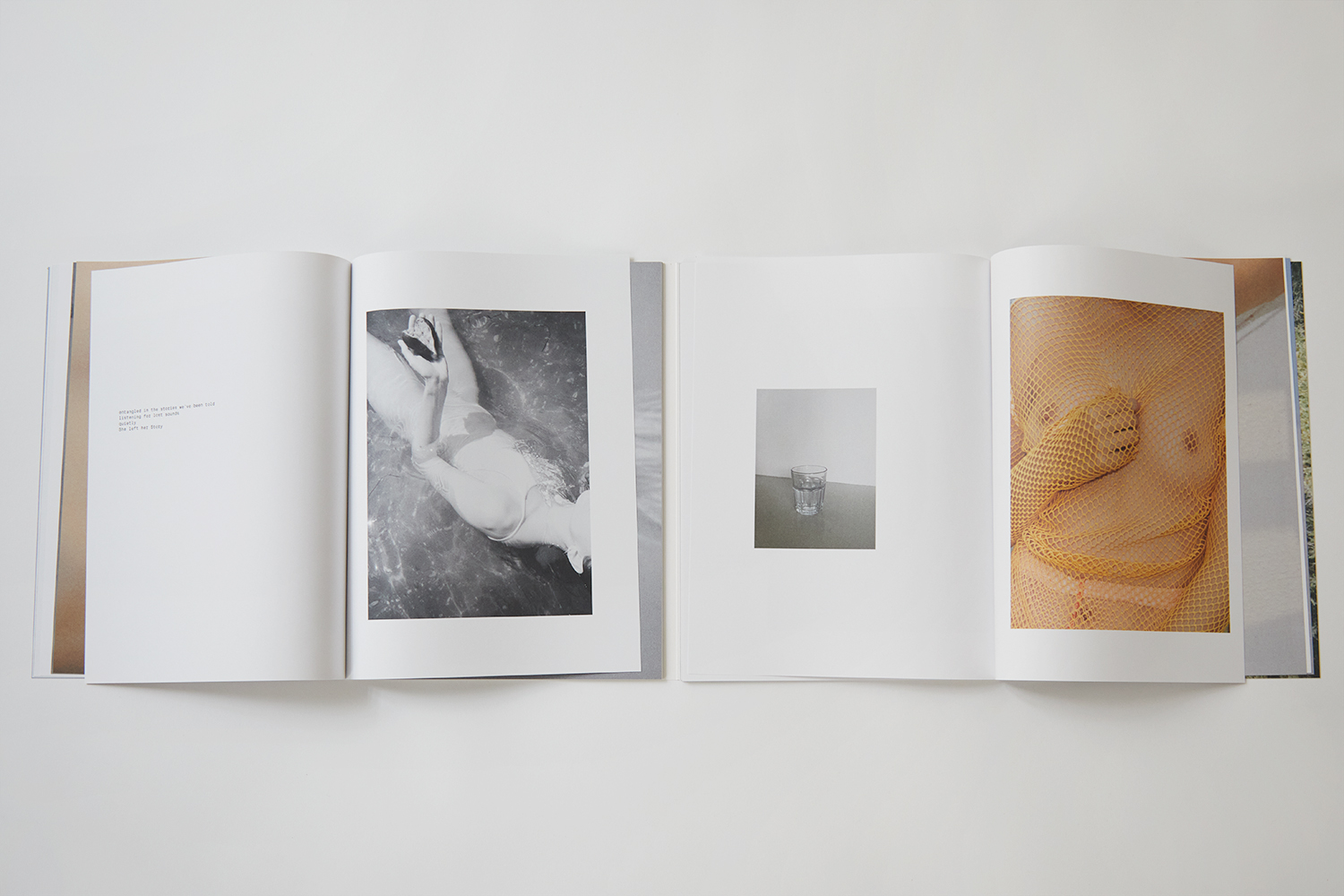 Together Apart
Edition of 500
104 pages
Softcover
21 x 27.5 cm
Year 2023
Design Maximilian Mauracher
Publisher POOL publishing
ISBN 978-3-99153-027-5
Orders available June 22nd 2023
[
POOL publishing]
/ 40 Euro + shipping
[e-mail]
- for signed copies / 45 Euro + shipping
Bookstores
Dashwood Books, NYC
Yvon Lambert, Paris
Foam Museum, Amsterdam
Stet Books, Lisbon
more coming soon..
TOGETHER APART
'Together Apart' is an ongoing series and the title of the new photography book of the Ritsch Sisters that reflects the ever-changing nature of our society.
The project came to life very naturally in the sense that the sisters started working together while living apart, Anna in New York and Maria in Vienna.
The essence of the series 'Together Apart' lies not in focusing on a consistent subject, but in the development of a method that revolves around duality and dialogue. The work shows intimate portrayals of the experience of photographing together despite being physically separated. Although Anna currently lives in New York City and Maria in Vienna, their shared upbringing forms the foundation of their collaborative photographic and artistic practice. The ongoing Series helps them to unveil and explore the layers of their interconnected lives, visually narrating tales of growth, introspection, sisterhood, conscious and subconscious connections, intuition and gender dynamics.
The book itself embraces a playful design. It consists of two separate book blocks nestled within its pages, further emphasizing the interplay of togetherness and separation. Readers have the option to browse the book blocks in parallel or individually, inviting them to engage in a playful exploration of new combinations and dialogues. This unique format adds an interactive dimension to the experience, encouraging readers to create their own connections and interpretations.
THE ACT OF SITTING
A Visual Exploration of 'Sitting' as an Action and Idea

'The Act Of Sitting' is a series of portraits of individuals in their homes in New York, Vienna, Los Angeles, Mexico City, Dakar, and other locations worldwide. The imagery was shot through a digital video conference system during the COVID-19 lockdowns between March and June 2020.

Because of the pandemic and the drastic limitations it has placed on our personal freedoms, we have been asked to stay home, to 'sit through' this. What happens within us when we are pulled away from our routines—our physical and social surroundings—and 'sitting' at home in isolation suddenly becomes the main reality of our lives?

Within this global, historical context, the project's concept revolves around observing the physical act of 'sitting' through a series of digital portraits, videos and text. We asked each person to express their individual interpretation of 'sitting' for their shoot, and write a passage of text to accompany it. The intention was to see how a word associated with a position of rest and inactivity can instead become a social, political, and performative act of connection and self expression. Sitting not as a passive attitude, but as an activity that is relevant to the individual as well as the collective.